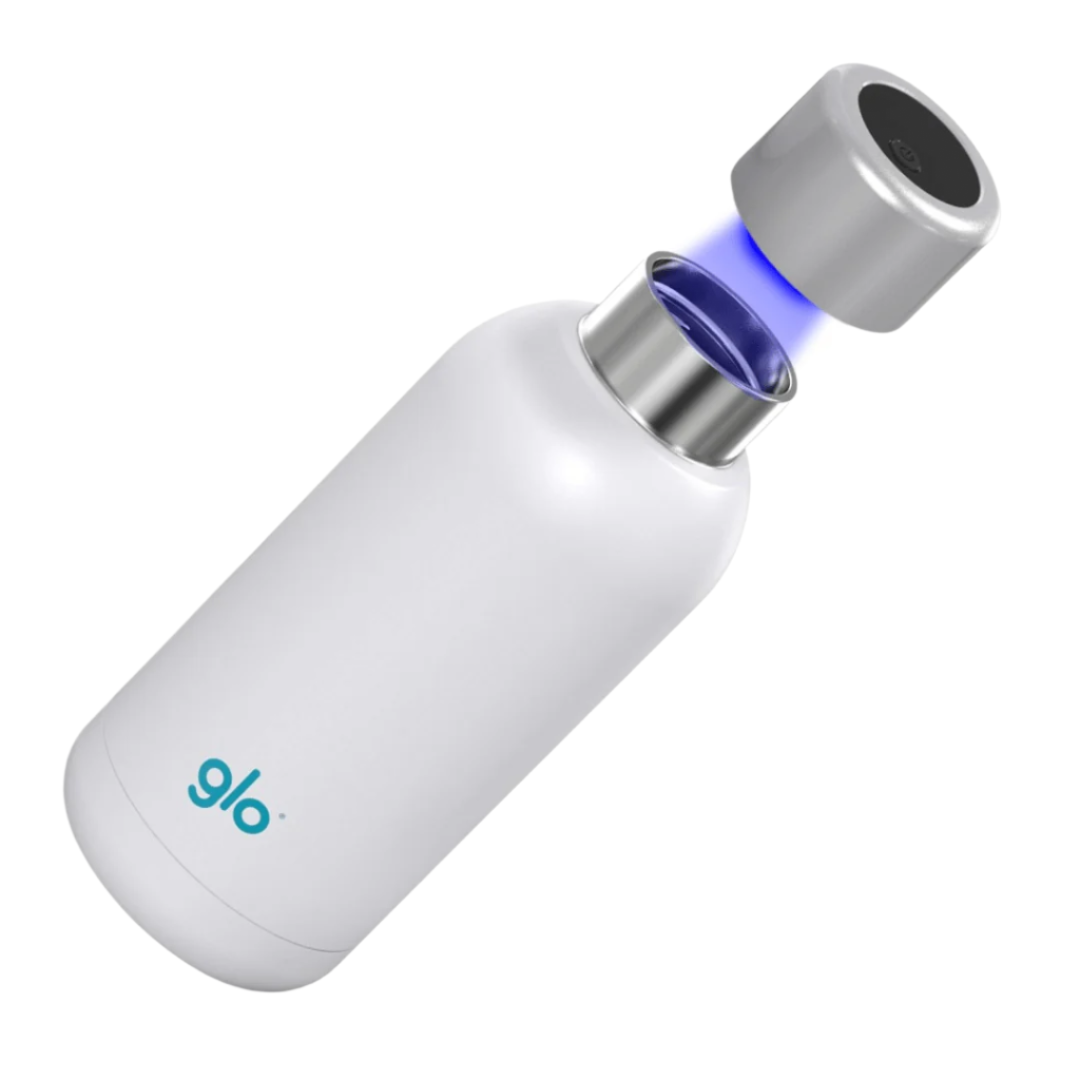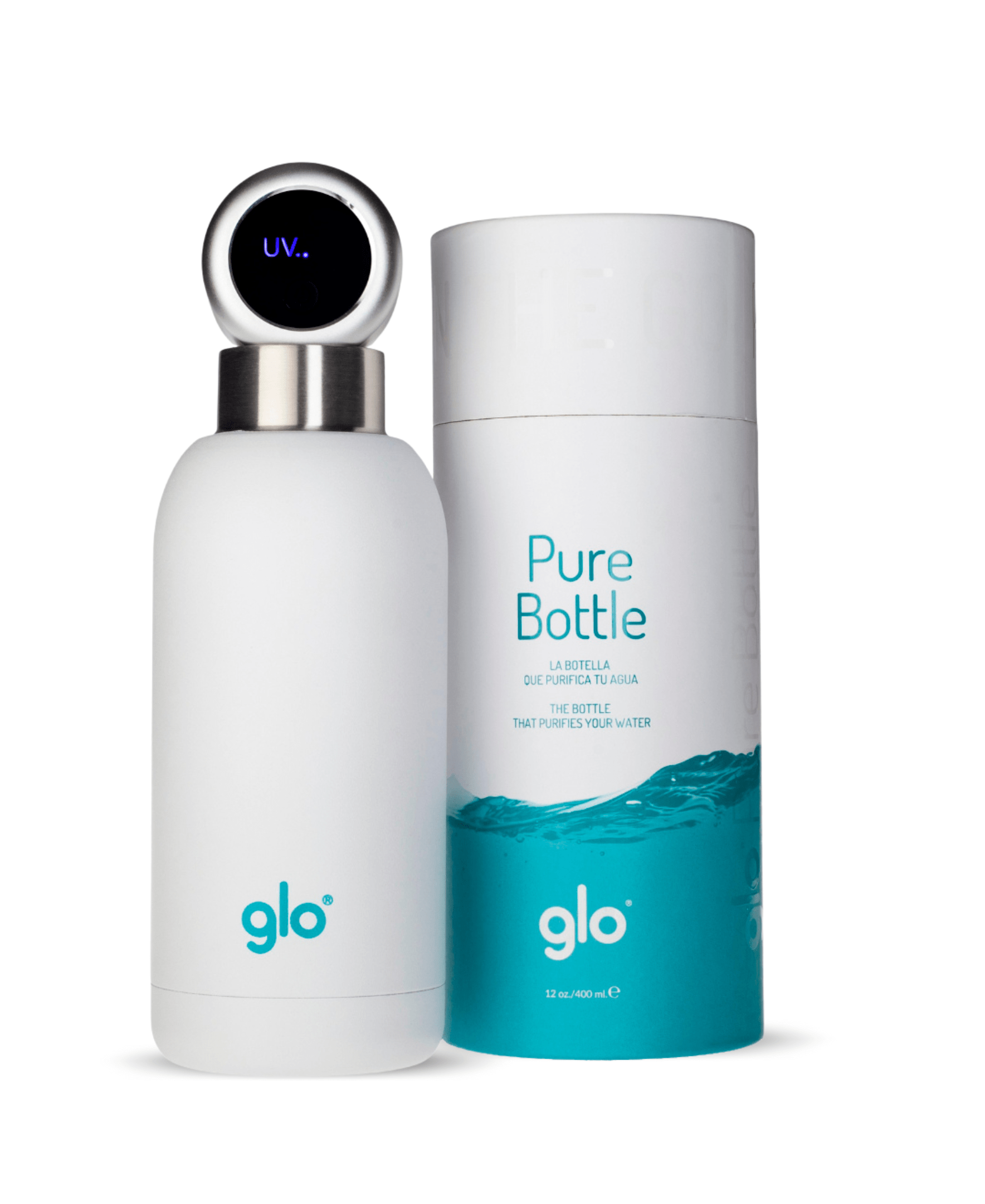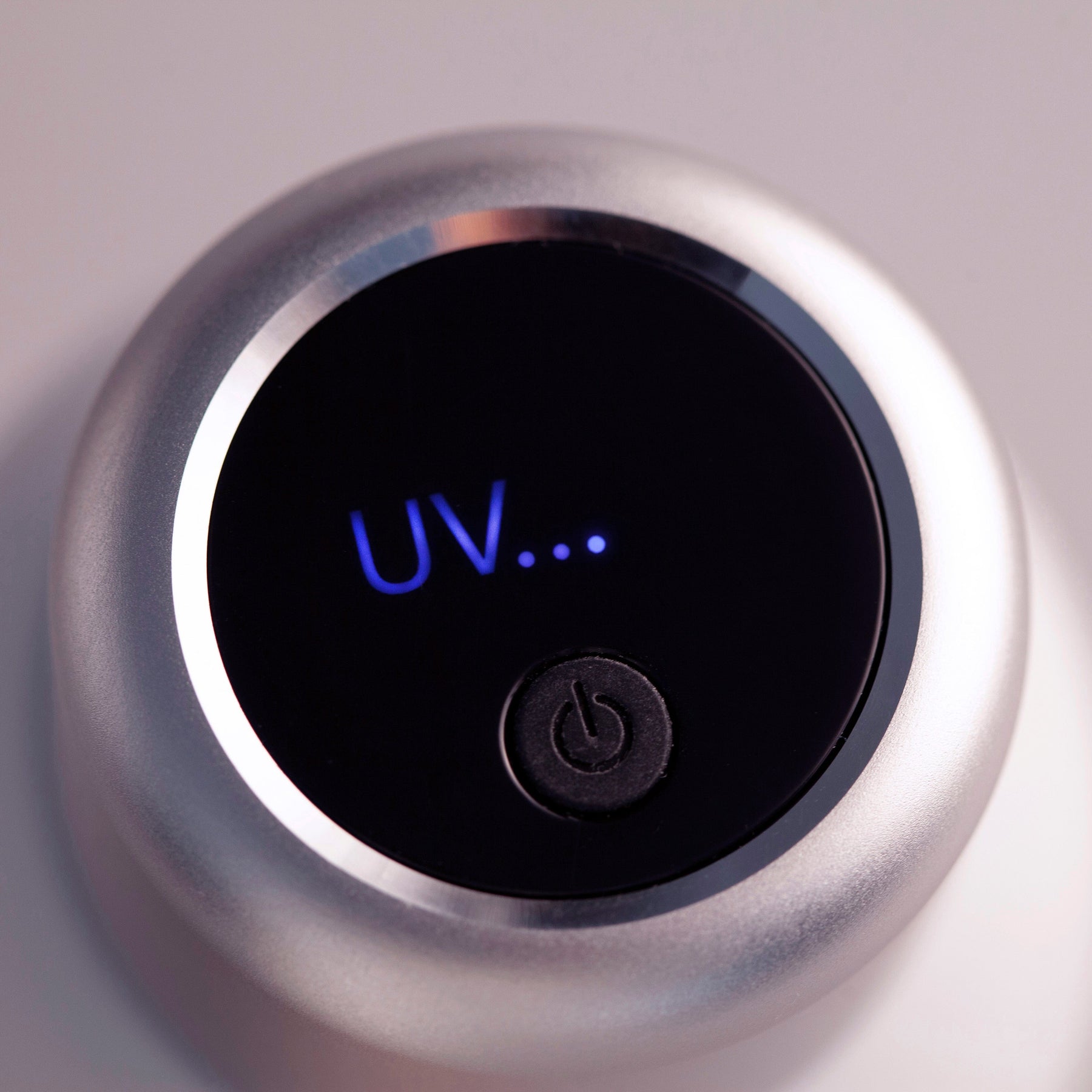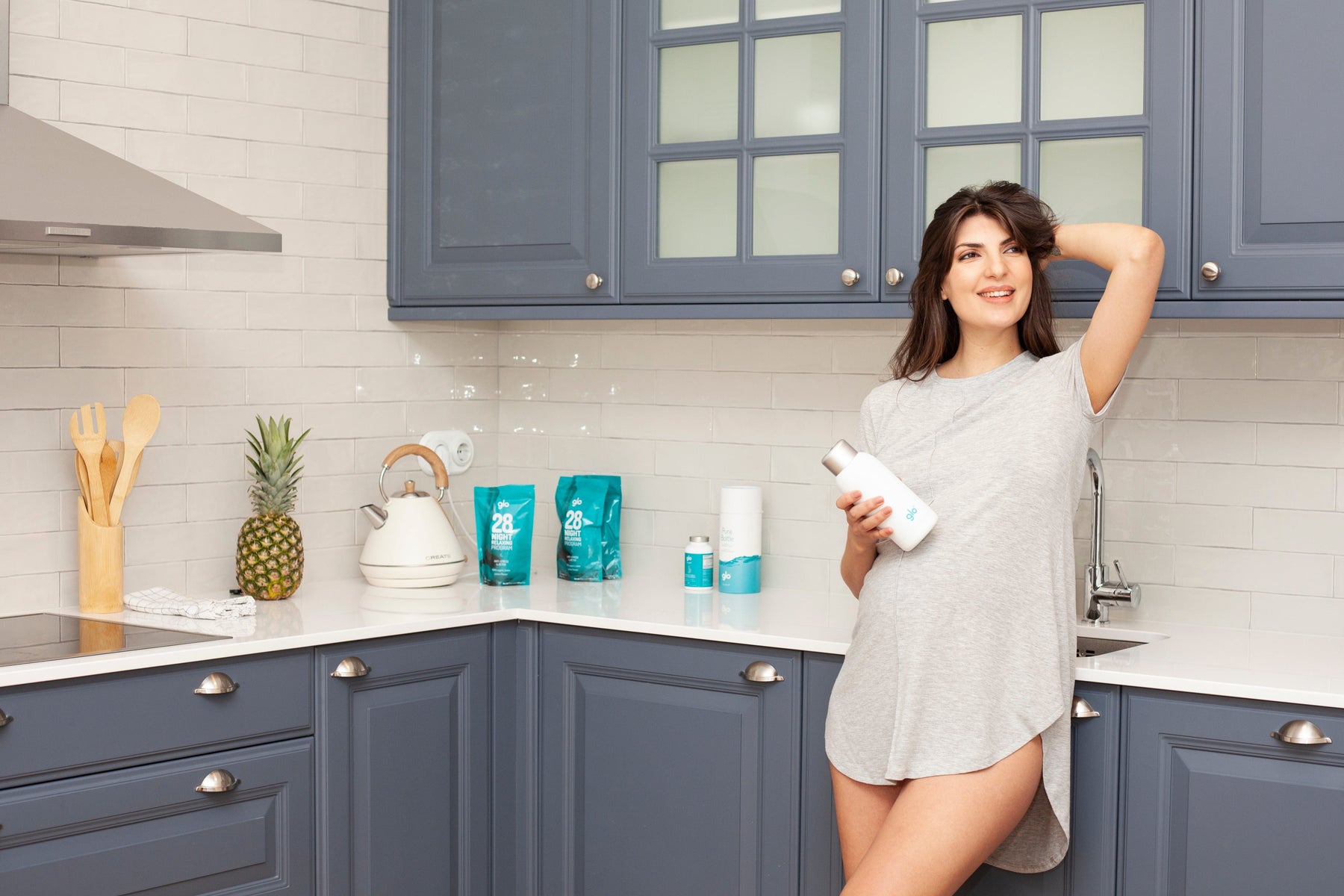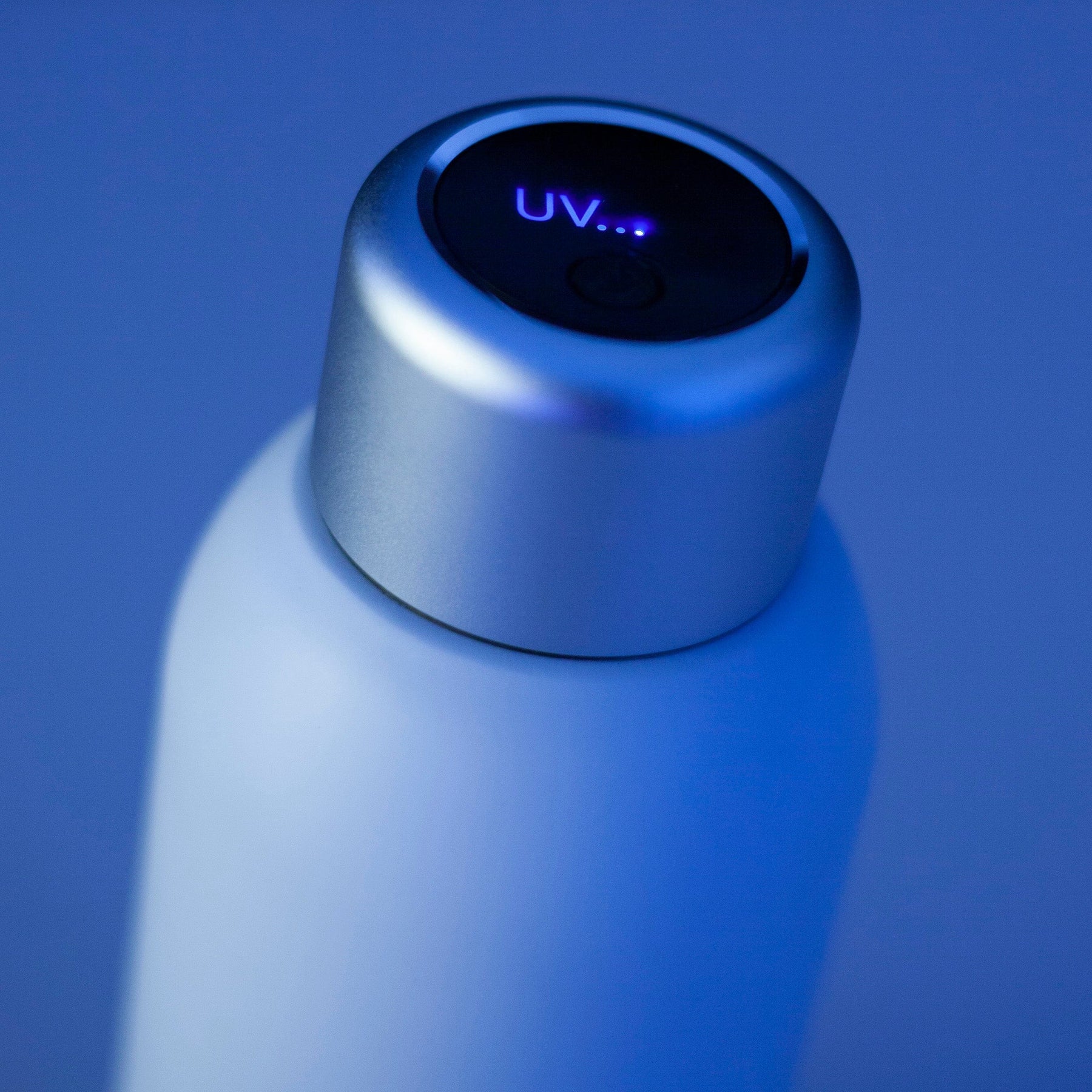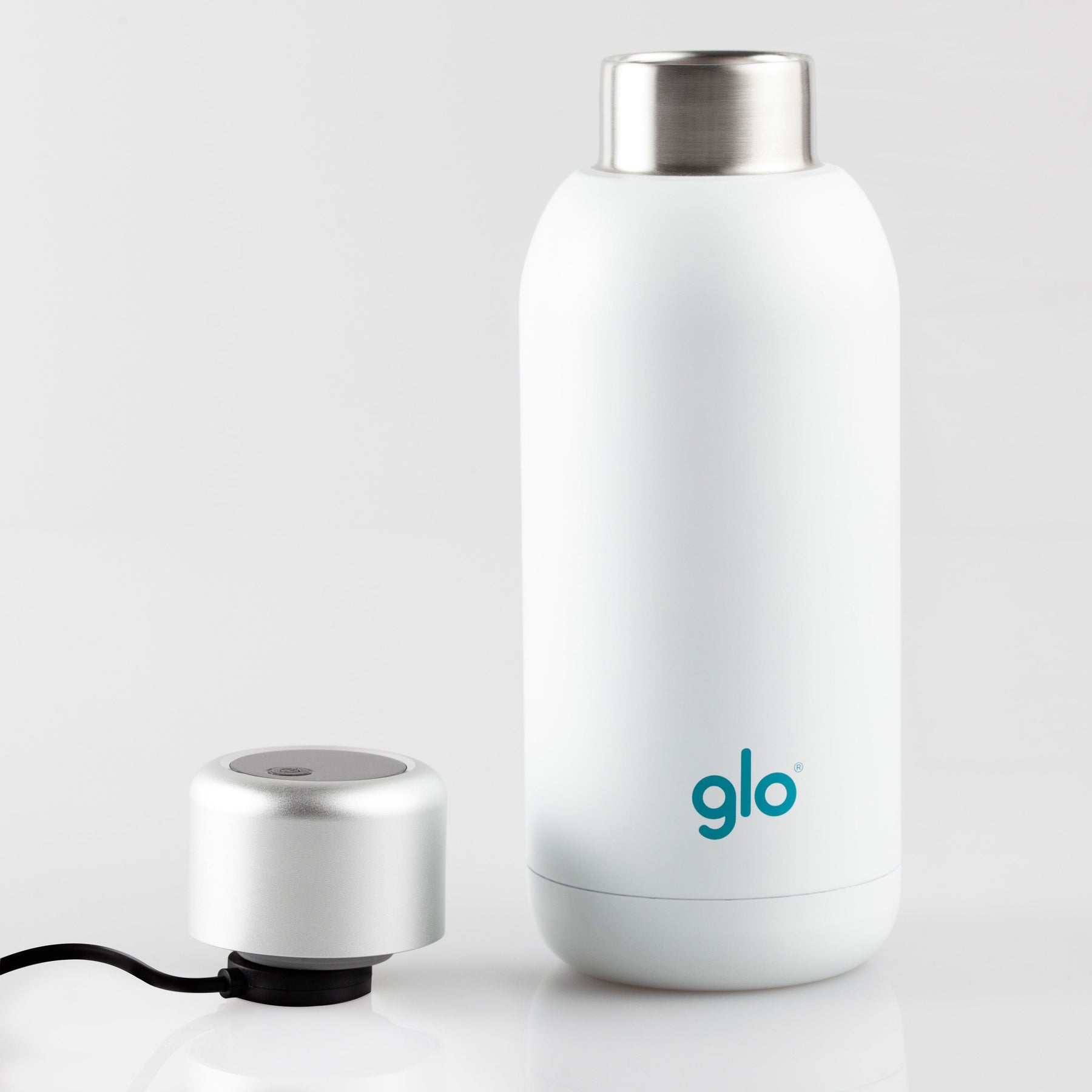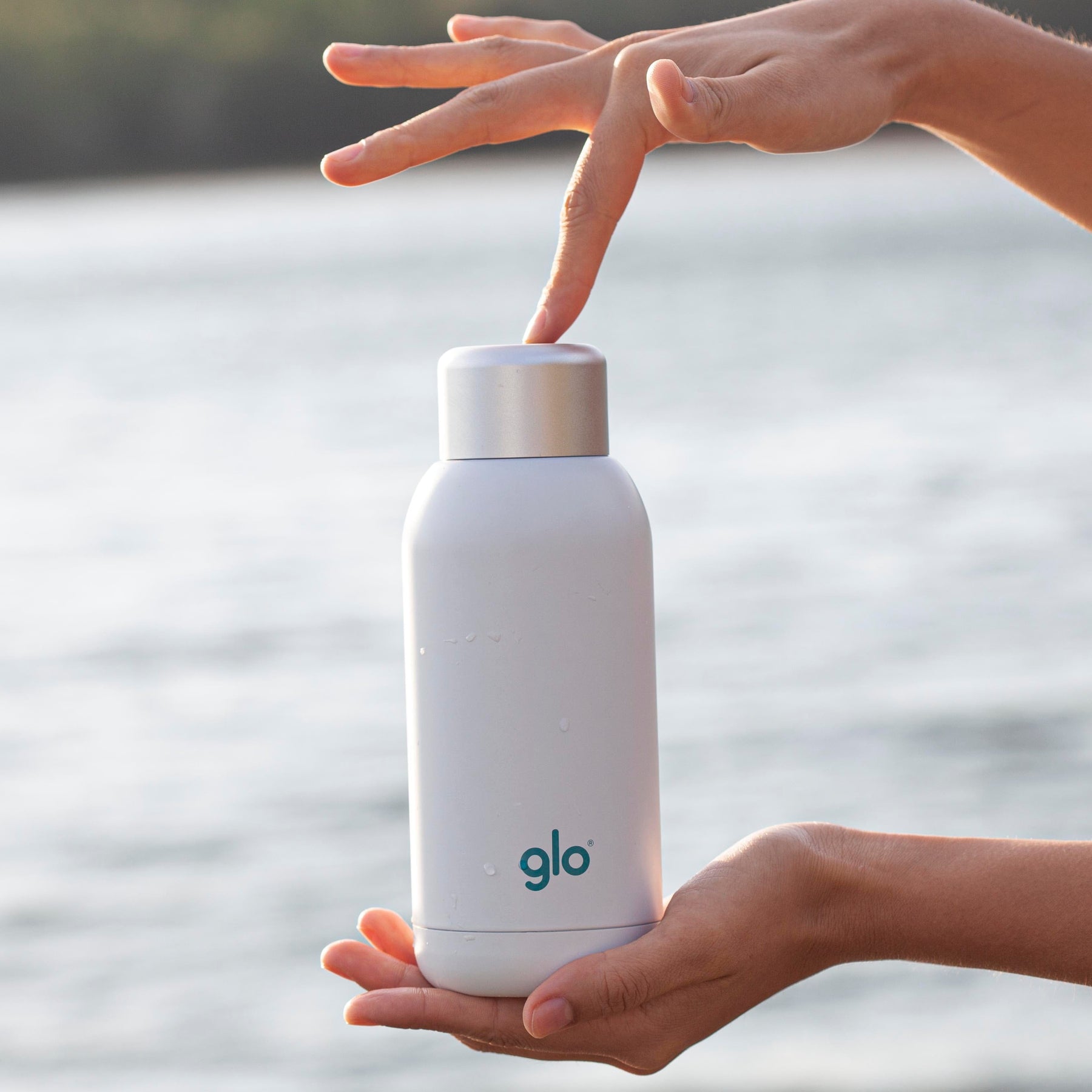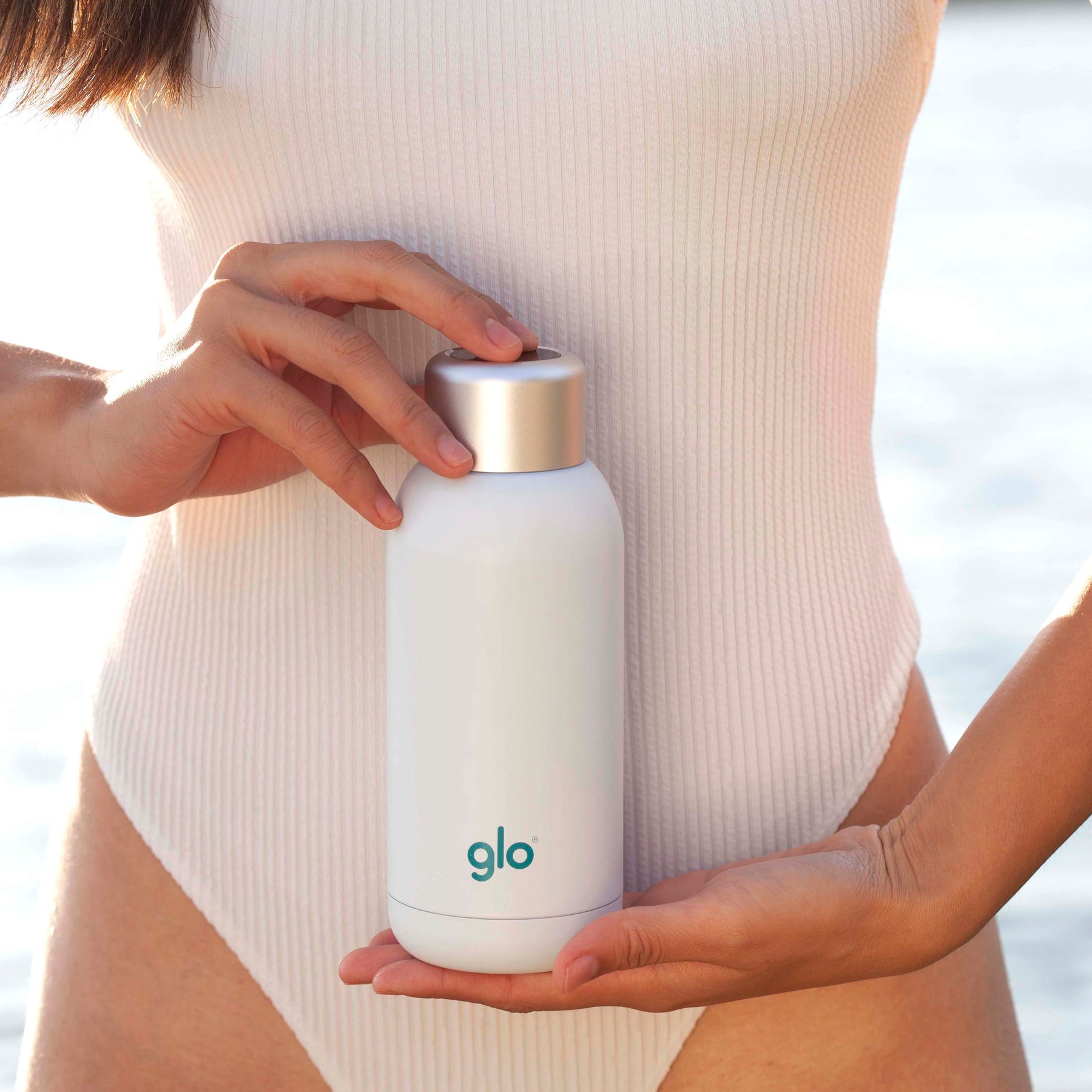 Self-Cleaning Bottle
PURE BOTTLE - LIMITED EDITION
Tired of your bad smelling water bottle? Forget about having to clean or waste polluting plastic water bottles to drink pure water.
Envío gratis - Península y Baleares

Garantía de 3 años

Envíos en 24-72h

Ahorra con packs exclusivos

Paga a plazos con Paypal
Glo donates to Daughters Rising NGO to help combat the heartbreaking status quo of on-going sex trafficking in Chiang Mai, Thailand, giving the Karen girls there an opportunity to rewrite their future through an education program.
A bottle that has no bad smell or weird taste, and does't require cleaning!
Tired of the bad smell in your water bottle? Always forgetting to clean it? Having to buy plastic-bottled water that are both wasteful and polluting just to drink fresh water?
This smart bottle will solve all your problems. With its self-purifying UV technology, it kills off the bacteria that cause bad smell and taste. in your bottle. The UV light breaks the DNA of the bacteria, and Glo has compacted this technology into the bottle lid.
Now you can purify your water anywhere and at any time, all at a simple touch of a button. It's easy like that! Fresh water and clean bottle at hand in 3 minutes.
Made from stainless steel and 100% BPA-free
Strong and durable. Ideal for any occasion: your office, the gym, a trip…
Keeps water hot for 12 hours and cold for 24
400ML
Long life! It will withstand your pace of life, at the office, when you play sports or in your outdoor activities.
- Enjoy pure, fresh and clean water, without bad smells and tastes, thanks to the bottle that self-cleans itself, disinfecting the water and its interior with the effectiveness of portable UV sterilization technology.
Every year 500,000 million plastic bottles are produced.
- Take care of the plant, and avoid disposable bottles that pollute our planet. It's time to be aware, avoiding generating plastic waste that mostly ends up in the sea. It's time to drink tap water with confidence because with Pure Bottle you will be sure that it is pure water and without bad taste.
Modo de uso
Before using for the first time make sure to fully charge the sterilizing lid.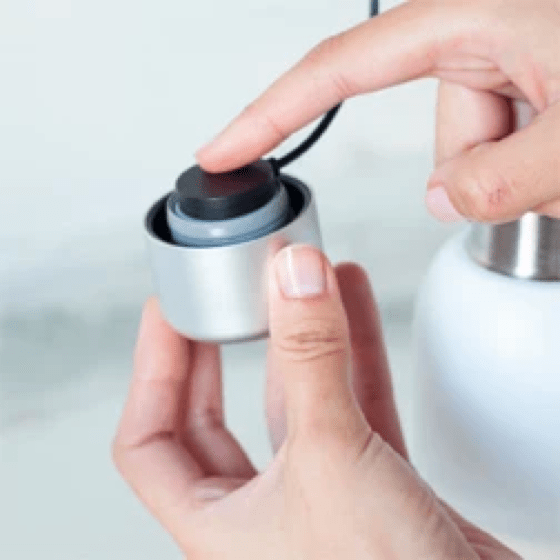 Attach the USB cable
Remove the cap from your bottle and place the USB cable into the magnetic charging contacts on the cap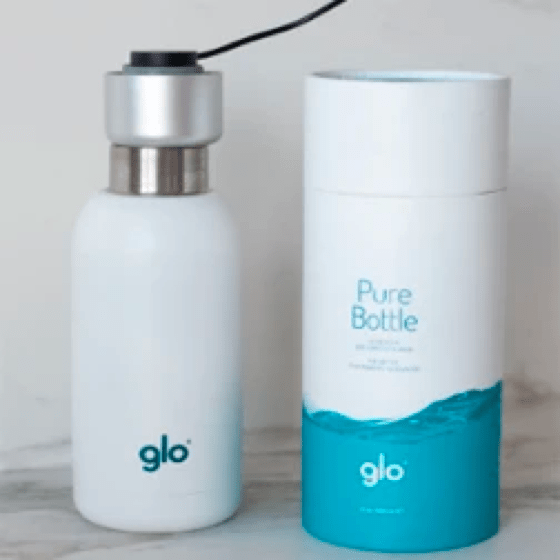 Connect the USB
Connect the USB to your mobile charger (plus 5V) or to your laptop until the battery is fully charged. IMPORTANT! 5V maximum charger. If you use a fast charge it will damage the battery. The warranty does not cover this misuse.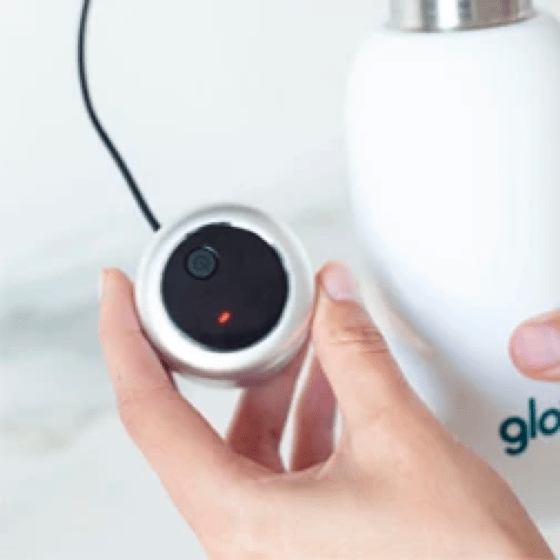 Charge
While charging, the LED light will turn red.
Charging complete
When fully charged, the LED lights up BLUE. NOTE: First charge: 2h minimum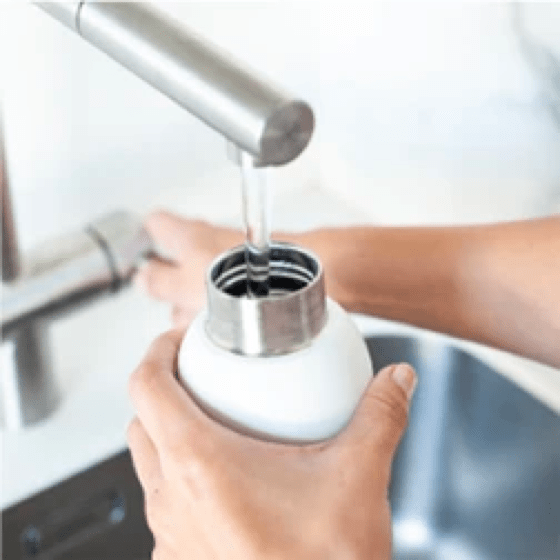 How to use
Fill the water bottle without reaching the top.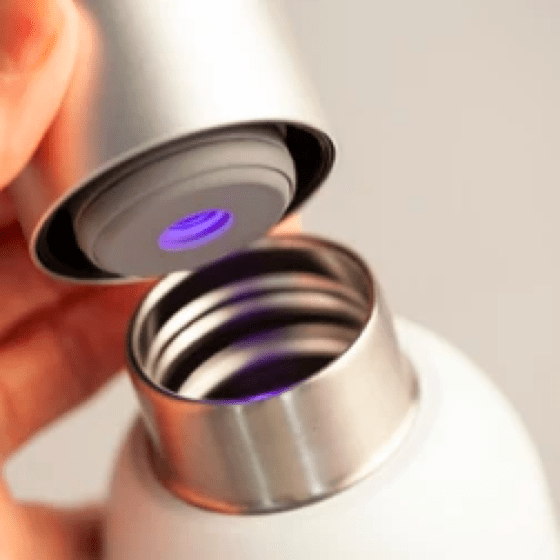 Close the bottle
Place the cap (with charged battery) and screw. Make sure the cap is screwed on properly for it to work (UV safety system).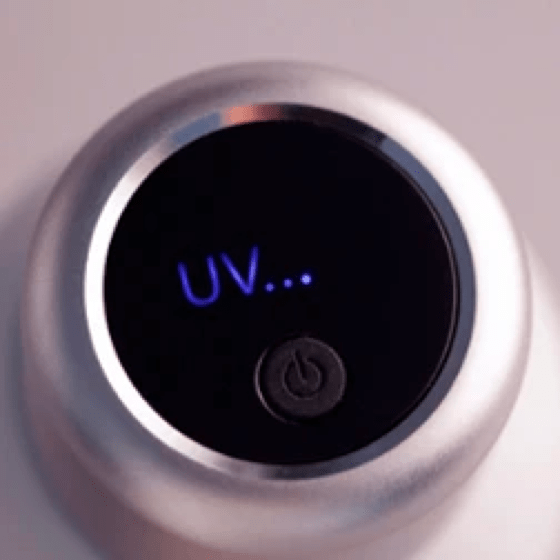 UV button
Press the UV disinfection button. Each disinfection cycle lasts 3 min to ensure deep cleaning. Disinfection can be activated 30 cycles each charge. It is recommended to activate it every 2-3 hours and every time we fill the bottle with new water.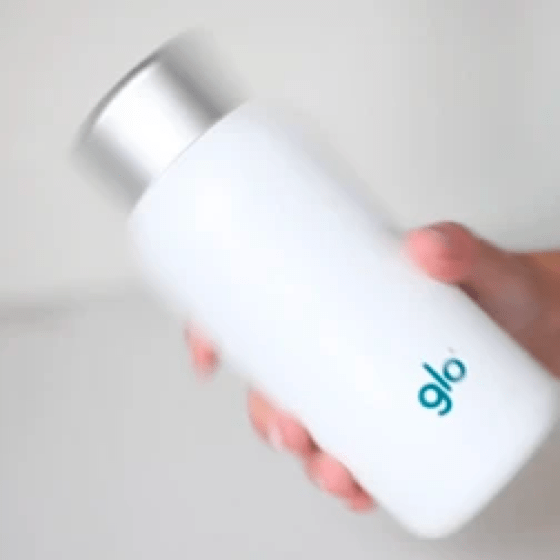 And done!
Shake gently to help the effect spread better throughout the interior. Electropolished material allows it to diffuse better inside the bottle.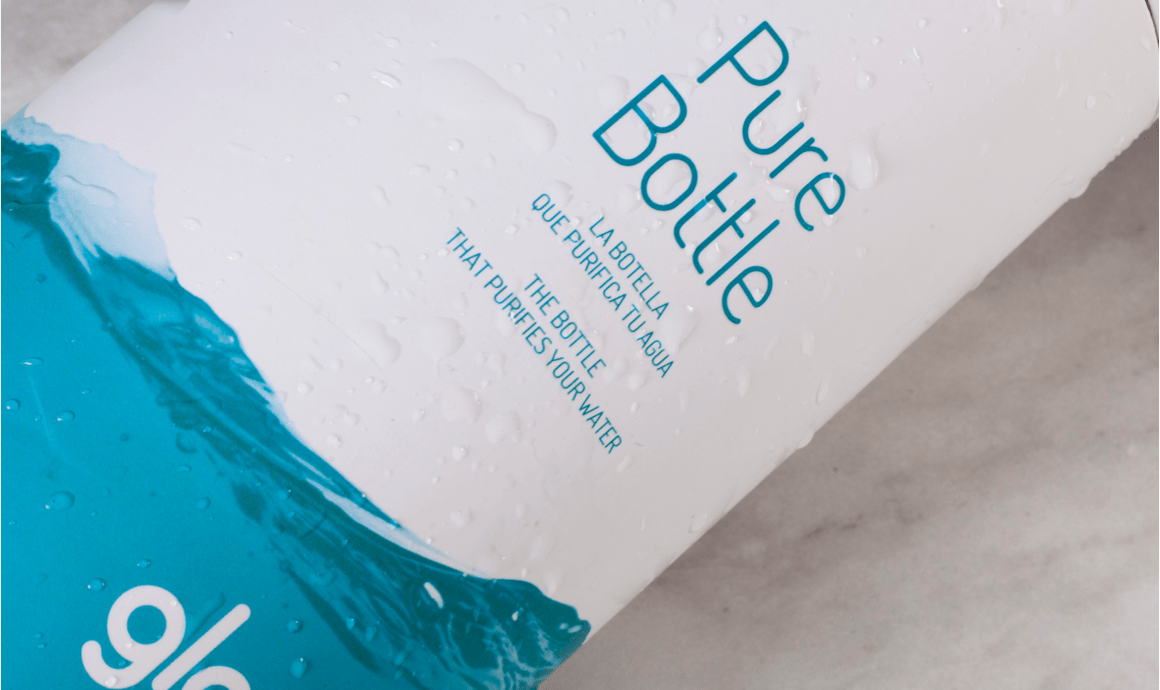 Design and technology united to make your life easier.
Some of these germs are the cause of the bad smell and taste of the water, so you can enjoy clean and pure water in this very practical way.
Pure Bottle sterilizes the water and the inside of the bottle with the technology used in hospital operating rooms in recent years, UV (280nm) ultraviolet light technology. This technology has been compacted to be able to adapt it to the size of the cap and take it with it anywhere, facilitating sterilization anytime, anywhere, in an easy, safe and chemical-free way. This technology produces a photochemical reaction that destroys the DNA of bacteria and viruses. When UV light is absorbed, it breaks the chemical bonds of germs, destroying them.

Technical specifications
- Capacity: 400ml (13fl oz)
- Cap with UV-C ultraviolet light (280 mn) that purifies the drink and sterilizes the neck of the bottle. Its light energy is capable of destroying 99.99% of viruses and bacteria. Eliminates bad odors and flavors typical of bottles without having to clean it.
- Refillable sterilizing cap. Lithium batteries. Duration 30 sterilization cycles. Micro USB charger. Connect it to a max 5V charger or to the laptop.
- UV cleaning circus: 3 min
- Effectiveness: destroys up to 99.99% of bacteria and viruses in the water and the bottle.
- Security system: To protect eyesight, UV technology only works if it is placed in the bottle and the ON button is pressed.
- Double insulation wall: Keeps hot water 12h, cold water 24h.
- Electropolished 18/8 stainless steel (BPA free) - medical grade.
- Patented anti-scratch powder coating.
The secret? It eliminates the germs that cause bad smell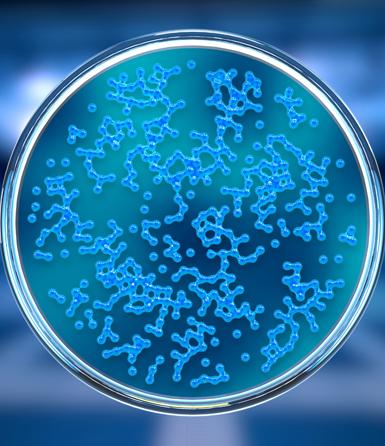 Pure water without bad odors
Destroys 99.99% of the bacteria and viruses that cause the bad smell and taste of the water in your bottle.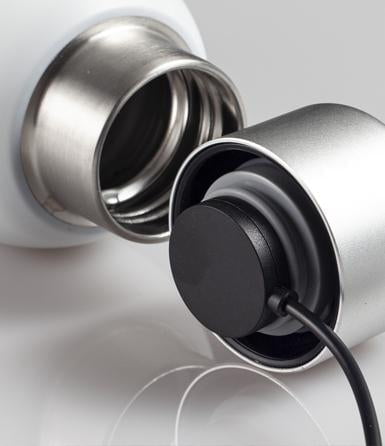 Without having to clean your bottle.
UV technology sterilizes the inside of your bottle and water safely, effectively and without chemicals in just 3 min.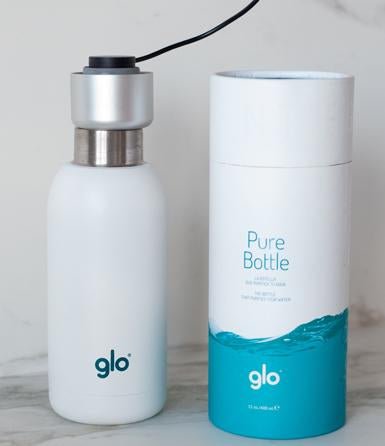 While taking care of your planet
You no longer need to drink from plastic water bottles in order to drink clean water.
De acero inoxidable 100% libre de BPA. Su doble pared permite mantener el agua caliente durante más de 12h y fría más de 24h.
Se puede usar, pero esta diseñada para purificar el agua, si se usa con otra bebida hay que lavarla bien.
Valoración de los clientes
90
los revisores recomendarían este producto
Escribe un comentario
02/08/2023
Anonymous

Spain
Recomiendo este producto
5estrellas
La conseguí gracias a una promoción comprando el GLO 910+, es perfecta de tamaño para llevar en el bolso, aguanta el frio de maravilla, y el tema de los olores por ahora usándola a diario rellenando varias veces, como recién estrenada :)
30/06/2023
Anonymous

Spain
Recomiendo este producto
No funciona
Escribí hace días indicando que no cargaba. Me dijeron que probara con enchufe (no directamente portátil). Lo probé pero tampoco funcionaba. Escribí pero seguís sin contestar ni dar una solución.
17/01/2023
Maria H.

Spain
Recomiendo este producto
No defrauda
Me gusta mucho como mantiene el líquido y el tacto es muy agradable. Me gustaría de 500 ml pero estoy muy contenta
26/12/2022
Anonymous

Spain
Recomiendo este producto
Es una pasada , me encanta!!!
05/12/2022
carmen p.

Spain
Recomiendo este producto
Pues cumple lo que dicen , pero le pondría una pega que es demasiado pequeña
Pues que no le pongo 5 estrellas , porque la botella para mi gusto tiene poca capacidad