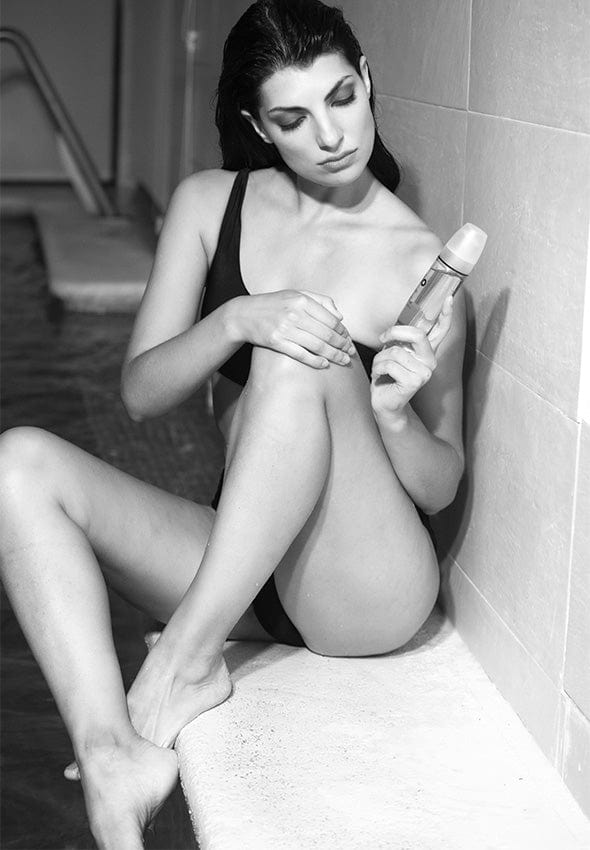 Body oil
OIL 910 BODY SCULPTOR
Natural oil to care for the silhouette formulated to reduce orange peel skin and flaccidity. Ideal for abdominal area and legs.
Envío gratis - Península y Baleares

Garantía de 3 años

Envíos en 24-72h

Ahorra con packs exclusivos

Paga a plazos con Paypal
Glo donates to Daughters Rising NGO to help combat the heartbreaking status quo of on-going sex trafficking in Chiang Mai, Thailand, giving the Karen girls there an opportunity to rewrite their future through an education program.
A natural anti-cellulite and firming oil, formulated to reduce localized fat, sagging, and even orange peel looking skin. Ideal to use on abdominal area and legs for smooth and healthy, cellulite-free skin. 100% made from oil formulation, without water. It combines together 6 essential oils, all with an anti-cellulite and fat-burning effect; enhanced with an innovative active bio-tech ingredient; and clinically tested as an activator of lipolysis and regenerator of skin cells. Instantly absorbed and won't stain clothes.


Enjoy a SPA experience at home, which stimulates the senses providing a wellness experience.
Intelligent formula with great
"fat burning"
power
,
which dissolves cellulite and localized fat nodules. Its function is to prevent and reduce the appearance of orange peel skin in areas with excess localized adiposity. It is ideal for
thighs, hips and buttocks
.
The Anti-Cellulite Body Oil is based on apricot, macadamia and grape oils, which provide elasticity to the skin with a highly moisturizing action. The formula is completed by a synergy of
Essential Oils
based on
Orange, Mandarin, Geranium, Grapefruit, Siberian Fir and Eucalyptus
that act by dispersing fat and fluid accumulations with a lipolytic effect in the area of application.
To a formula already effective against cellulite, we have added an innovative
biotechnological active ingredient with proven efficacy
that stimulates the lipolysis reaction,
significantly slimming the legs
.
Thanks to its creamy texture, it nourishes in depth, while increasing the softness and beauty of the skin. It is quickly absorbed and does not stain.
Its pleasant aroma
helps to balance body and mind
, bringing harmony, serenity and vitality. Very indicated to mitigate anxiety, fatigue, insomnia, nervousness and stress. Encourages creativity and self-confidence.
Modo de uso
Apply with an energetic massage with upward circular movements on the area to be treated to combat cellulite.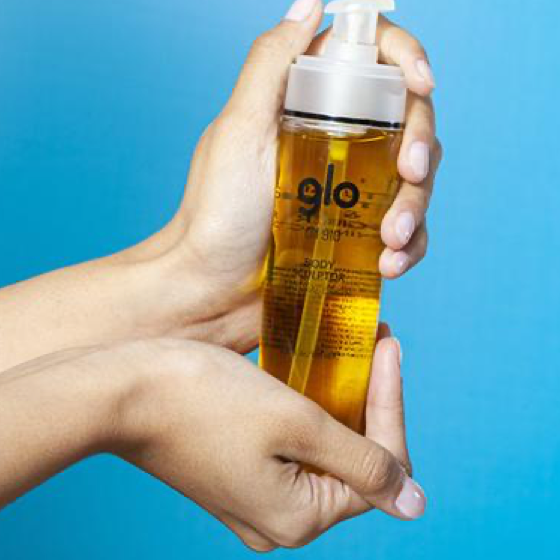 Manual Application
Apply with an energetic massage with upward circular movements in the area where you want to fight cellulite. We recommend preparing the skin by performing a professional dry peeling with Glo910 BODY BRUSH.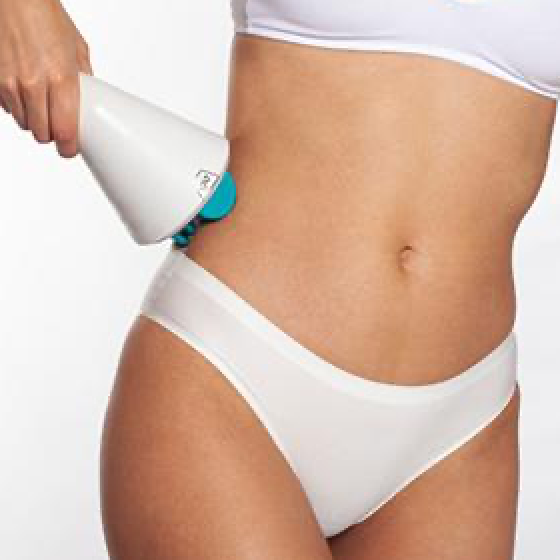 Application with Glo910
Use your Glo910 device for a more professional application and greater effect.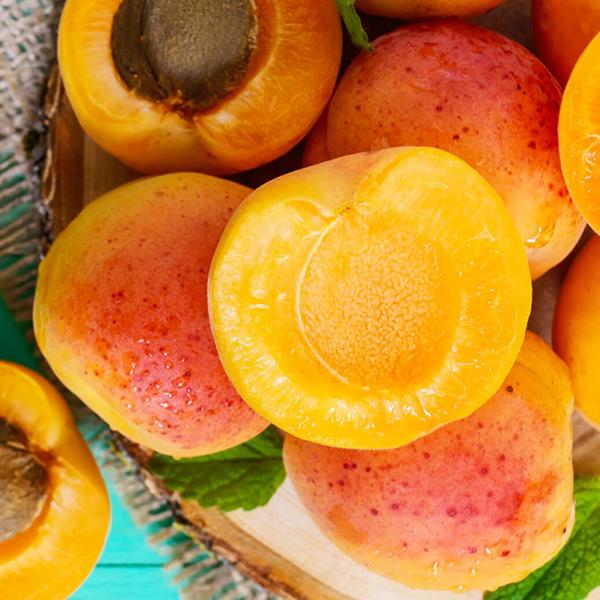 Natural Oils
Regenerating and moisturizing: apricot, grape, macadamia and sunflower oil.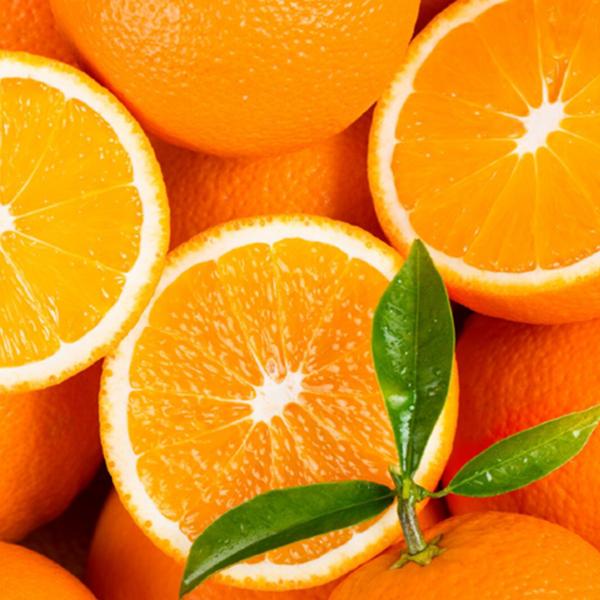 Essential oils
Powerful lipolytic and detoxifying properties: natural grapefruit, mandarin, eucalyptus, orange, rose geranium and Siberian fir.
Active Biotech fat burning
Eliminates fat and decreases inflammation, derived from an exotic Hawaiian variety of ginger - Zingiber Zerumbet Extract.
Listado de Ingredientes
Ingredientes: INGREDIENTS: PRUNUS ARMENIACA KERNEL OIL / PRUNUS ARMENIACA (APRICOT) KERNEL OIL, VITIS VINIFERA SEED OIL / VITIS VINIFERA (GRAPE) SEED OIL, MACADAMIA TERNIFOLIA SEED OIL, ETHYLHEXYL PALMITATE, LIMONENE, EUCALYPTUS GLOBULUS LEAF OIL, CITRUS SINENSIS PEEL OIL EXPRESSED / CITRUS SINENSIS (ORANGE) PEEL OIL EXPRESSED, CITRUS PARADISI PEEL OIL / CITRUS PARADISI (GRAPEFRUIT) PEEL OIL, ABIES SIBIRICA NEEDLE OIL, CITRUS RETICULATA PEEL OIL / CITRUS RETICULATA (TANGERINE) PEEL OIL, PELARGONIUM GRAVEOLENS OIL, BOSWELLIA SERRATA EXTRACT, ZINGIBER ZERUMBET EXTRACT, HELIANTHUS ANNUUS SEED OIL / HELIANTHUS ANNUUS (SUNFLOWER) SEED OIL, TOCOPHEROL, BETASITOSTEROL, SQUALENE, LINALOOL, CITRAL, GERANIOL, CITRONELLOL.
After 2 months of application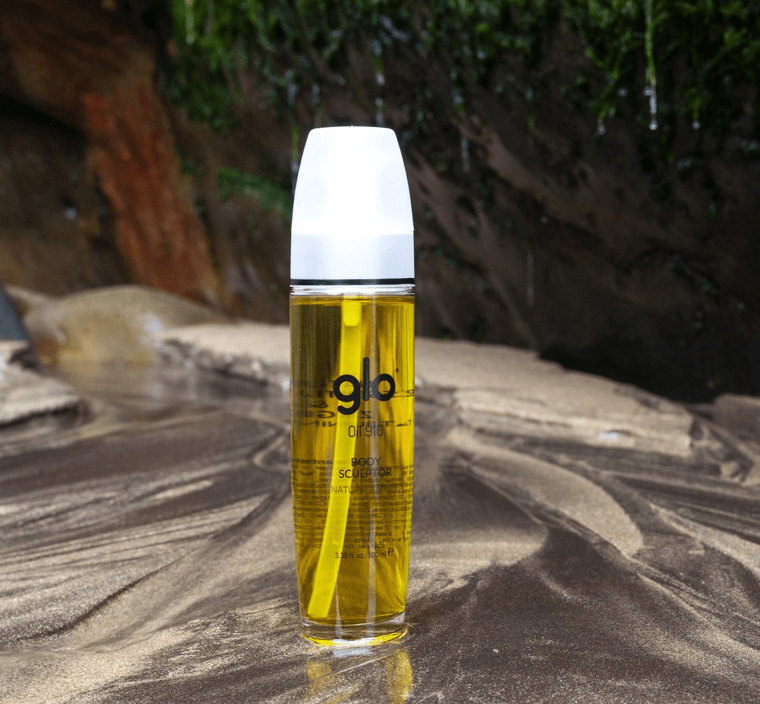 95% of women reduce the thickness of adipose tissue in thighs and ankles.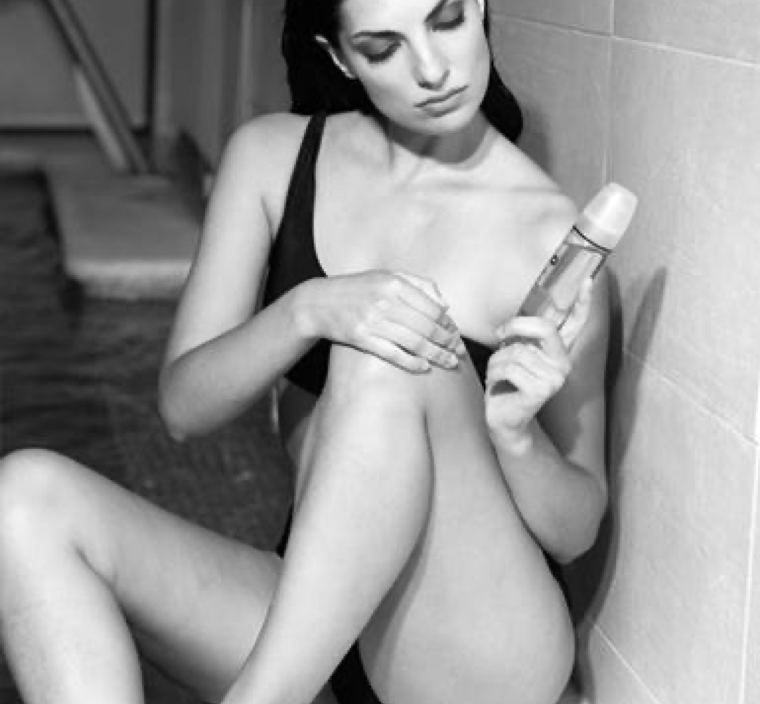 80% of women significantly slenderize legs
Zingerslim Natural Fat Burner Biotechnological Active (3%)
After two months of application, it significantly slims the legs, especially in the thigh and ankle area.

Prevents cellulite by encouraging fat cells to maintain their original shape (**).

Prevents adipocytes from increasing in size by stimulating the burning of their internal fat and prevents the formation of hard nodules by inhibiting their maturation (hardening of the outer layer) (**).

(*) In vivo test: 24 women, average age 40 years (26-52 years) applied twice a day with 3% Zingerslim on legs. Measured adipose tissue thickness, circumference and volume of the leg.
(**) In vitro test: Relief effect on hypodermis, reduction of adipose tissue (LIPOLYSIS) and protection of extracellular matrix repair.
The secret? The true power of nature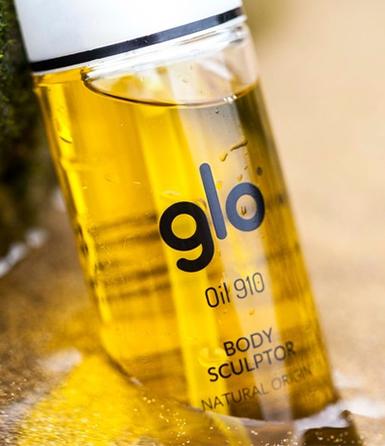 Natural. 100% Oil
Ultra-powerful and transforming formula with a divine texture, containing the purest, most natural and effective ingredients for body contouring. Its virtues will captivate you.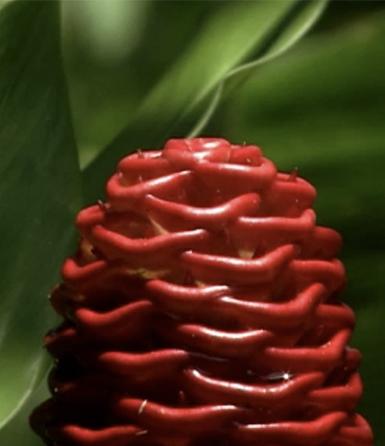 Reducing action
Feel the fat burning and anti-cellulite action of its 6 essential oils, enhanced by the natural fat burner derived from Hawaiian Ginger (Zingiber Zerumbet).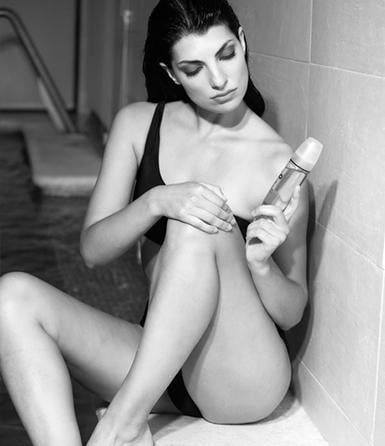 Aromatherapy
Oil 910 stimulates the senses, providing harmony, serenity and vitality, the emotion of feeling magnificent.
No, debido a su composición de aceites esenciales.
Customer ratings
25/10/2021
Virginia C.

Spain
Body Sculptor Oil
It is the best slimming and anti-cellulite oil I have ever tried, unique smell and texture, I recommend it 100%.
05/10/2021
Veronica

Spain
The best oil!
I bought two Glo oils and besides smelling spectacular if you are consistent and apply it every day you will notice a great fat reducing and anti-cellulite action, I have tried many oils but without a doubt I'll take this one. Another plus is that it is made exclusively from natural elements and I love it!
12/09/2021
Virginia

Spain
Body Sculptor Oil
The best slimming and anti-cellulite oil I have ever tried!!! It leaves your skin smooth and soft and the smell and texture are unique.
22/06/2021
Maria B.

Spain
100% recommendable
It leaves the skin very soft and is eliminating "orange peel" skin on the thighs and buttocks. Consistency and this oil are the cause of great looking legs and skin!!!
29/05/2021
Virginia C.

Spain
glo910 oil
It's a real blast, the best slimming and anti-cellulite oil I've ever tried. ❤